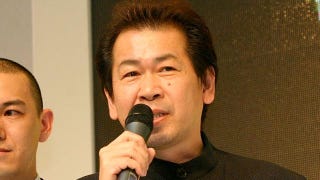 Yu Suzuki, the man behind classic Sega video games Space Harrier, Out Run, Virtua Fighter and Shenmue, will be at this year's Game Developers Conference to receive a prestigious accolade, this year's Pioneer Award.
Wolfire, the charitable types developing kooky PC action game Overgrowth, don't just make games. They imagine what it would be like if people went and remade someone else's old games, making them as awesome in 2010 as they were originally.
Artist Jon Hansen walked into a second-hand store, saw a pile of awful Thomas Kinkade rip-offs, and had an idea: to make them better. By adding some Street Fighter. And Space Harrier.
More retail hostage-taking! Normally the reserve of smaller publishers and/or Capcom, this time it's Sega, with Thunderforce VI director Tez Okana telling Edge:
This week in Nintendo Wii downloadables, two classic franchises make their triumphant return, and if neither tickles your fancy you can always take a crash course in interior design. That's right, in addition to good old Space Harrier for the Sega Master System (500 points) and Hudson's classic pinball title reborn…
The hopes of a Yu Suzuki led Shenmue III have just become ground into ever finer particles, as Sega of America president Simon Jeffery tells Gamasutra in a new interview that the legendary developer is no longer at the company. Jeffery says of Suzuki's status that "Last I heard, he was doing some online stuff in…