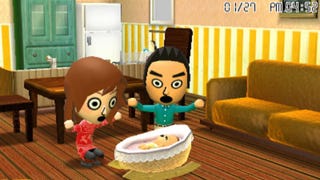 I imagine that parents get struck with a revelation in the process of rearing a child that helps them appreciate the enormity of the task before them. I say "imagine" because I've never had a child. At least, a real one. But I was struck by that revelation recently thanks to a small, weird Nintendo game of all things.
One thing people have always loved about The Sims is its quirky made-up language. It's become so popular since the series debuted that fans now affectionately refer to it as "Simlish." It doesn't make much sense, but half the fun comes from deciphering what sims are trying to tell you by the tone of their voice and…
Making Miis and watching them grow is the best part of Tomodachi Life. So why not share some of that joy with the rest of the world? What's that you say...because doing so is unnecessarily confusing?