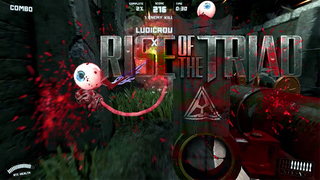 The re-imagining of Rise of the Triad is here and unafraid to let you loose with nothing to guide you other than your intuition. Too bad my intuition is rubbish. I get myself lost on the way to the shops. But it's safe to say Rise of the Triad is as gore-filled and over the top as you'd expect from a game based on the…
I'm not sure I was ready for this Kim Jong-un Easter egg in the revival of Apogee's classic shooter, Rise of the Triad.
Rise of the Triad, the insanely fast-paced remake of the classic '94 Apogee first-person shooter, will be released on the PC in just a month, on July 31. Pre-ordering also gets you four more classic Apogee titles, including the original Rise of the Triad with its expansion pack, and the two Blake Stone games. Not bad.
The people working on the Rise of the Triad reboot take the game's 90s roots very seriously. They've already re-created the cover art, characters, and feel of Apogee's cult classic, and they're putting the same care into the soundtrack. This video diary details how they're re-recording the classic tracks from the…
Here's almost eighteen minutes' worth of awesome-looking, insanely fast multiplayer footage from Interceptor Entertainment's remake of Apogee's 1995 shooter, Rise of the Triad. The game's coming out this summer.
When I see it in action, the insane pacing of Rise of the Triad looks seizure-inducing. I don't mean that in a bad way; it's frenetic, fast and furious, and its old school action will no doubt endear it to many.
Despite my aversion to shooters—god, there's too many of them—Overstrike, with its playful, comical tone and its cartoon aesthetic caught my eye. The approach felt like something fresh. But we don't have Overstrike anymore, no, instead we have Fuse. Compare the two trailers for the games and you see see a world of a…
Apogee Software's mid-'90s cult-classic first-person shooter Rise of the Triad is coming back, with the help of the Danish studio that remade Duke Nukem 3D. The new Rise of the Triad will be developed by Interceptor Entertainment and Apogee and will be out as PC download through Steam later this year.