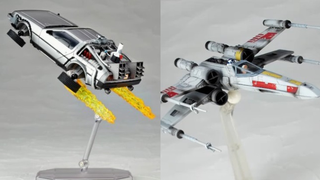 Kaiyodo's Revoltech line isn't just for turning characters into awesome looking action figures — sometimes the vehicles get the treatment too. The latest entries in the Revoltech line are totally badass versions of the X-Wing and the Delorean!
To mark the 25th anniversary of stealth series Metal Gear, Japanese figure maker Kaiyodo is releasing a figure of Naked Snake from Metal Gear Solid: Peace Walker. This figure is part of Kaiyodo's posable Revoltech Yamaguchi line.
Creepy Woody is one pervy figure. But he's not just a giant horn dog. He's also trolling rad toys, like the Metal Gear Rex. What a jerk!
It seemed so innocuous at first. Legendary Japanese figure maker Kaiyodo released a Woody from Toy Story figure. It included an alternate face that would become a party of internet infamy: Pervert Woody.