It's March 14, 2016, also known as Rounded Pi Day. Chances of me ever eating six pies for a Snacktaku video again are incredibly slim, so here's a replay of last year's Ultimate Pi Day celebration for your dining pleasure.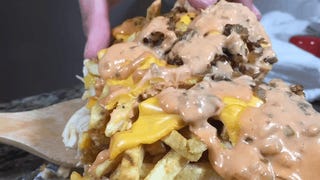 Packed with famous burgers,cheese, fries, more cheese, sauce, grilled onions and some cheese, one slice of Foodbeast's In-N-Out Burger Pie contains roughly all of the calories, but that's not the worst part.
Bernard lost by 1,400 to 340. I know cowardice when I see it and I point the finger squarely at Randolph, who failed to recognize his insurmountable lead and act pre-emptively.