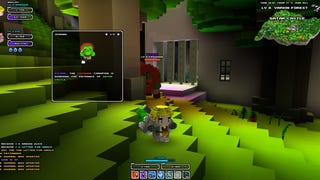 Though we initially heard a little about Cube World's questing system back in January, today the developers gave us a glimpse of how they would work in the gorgeous voxel-based RPG.
Cube World's alpha launch has been a rocky one—eager fans waiting to get their hands on the immensely charming voxel RPG likely haven't been able to buy the game yet, even though the developers have been trying to sell it for days now. At first, it seemed like it was just immense demand that was breaking the servers.…
The developers of upcoming voxel-based sandbox RPG Cube World, Picroma, are posting a series of updates to their website discussing the many weapon skills each class will use in the game, starting with the Warrior. I want a plushie of that green thing. I don't even know what it is but I want to give it a hug. Please?