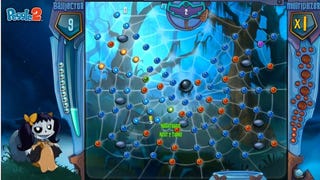 Peggle 2 launches on Xbox 360 on May 7, Popcap said this morning. This version of the game will add a multiplayer Duel Mode.
Peggle 2 is getting multiplayer via free DLC. A recently published Facebook post by Popcap's Jared Neuss outlines their post-release plans for Peggle 2, which include a free piece of DLC adding the multi-player Duel mode from the first Peggle, along with regular updates to "expand and add to" the game's world.
Peggle 2 will be out "a few weeks later in December" and not on the day Xbox One launches (Nov. 22), PopCap said. An earlier listing by Microsoft called it a launch-day title. The game is a timed exclusive to Xbox One.
I had a bit of cognitive whiplash when I saw Peggle 2 this afternoon. Its predecessor is a game that's everywhere. Your mom or even grandmother probably plays it, or something heavily inspired by it. The browser version of the first Peggle is what helped its viral spread but there I was playing it on an Xbox One…
Revealed this morning as an Xbox One timed exclusive, Peggle 2 got a little more stage time at EA's Gamescom presser than it did at E3, parading about its balls and pegs like it was in some sort of first-ever gameplay trailer.
Like Peggle? Well Peggle 2 is an Xbox One launch title. And Plants vs. Zombies Garden Warfare is hitting the console next year. Both are coming to Xbox One first.
Remember that awesome Peggle 2 announcement? Here's the same announcement, only more extreme. We're talking like, unicorns and explosions type of ridiculousness. And it's official!