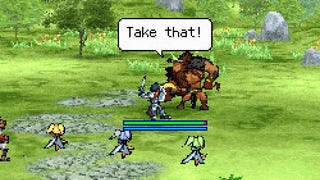 Ancient Greece's immortal amnesiacs want answers, damn it, and they intend to get them in Nintendo's role-playing game Glory of Heracles for the Nintendo DS.
One of Nintendo's more low-key releases of 2010 is Glory of Heracles, released last week in North America for the Nintendo DS. The Greek-themed role-playing game is new user friendlier than most and the first in the series to come stateside.
Nintendo's Glory of Heracles feels like the company's attempt at RPG Training, a My First Role-Playing Game for the crowd fearful of stats-heavy, turn-based conventions. But then the Nintendo DS game quickly becomes that very thing.