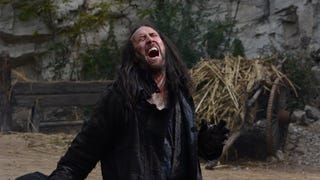 Nic Cage has pushed the limits of acting in the past — but with Outcast, his new movie coming out next week, he's redefining acting completely. Just watch the Shatnerian delivery of "I AM the White Ghost!" and the bizarre line-reading of "Their blood will be ON OUR BLADES!" It's just... sublime. Watch the trailer for…
Outcast came out in 1999. It was pretty great. Then, this year, its original creators launched a Kickstarter campaign for a HD remake of the game, which, sadly, failed to meet its goal. And now, it looks like they are settling for the next best thing: releasing the original game, with new features, on Steam. Today.
Super-early gameplay footage from the Outcast HD reboot. And I do mean super early—it's basically the old game models in the new engine, with zero special effects. Still, looks promising! The Kickstarter campaign is currently 37% funded with just under two weeks to go.
Today, Outcast was released on retro downloadable games service Good Old Games. It's only $6, so I'm going to recommend it to almost everyone. And not because it's a good game.
Outcast was one of those games that was so amazing most people never even got to play it. It just...shone too damn brightly. So much so that this 2010 remake of a 1999 game may well get more exposure.