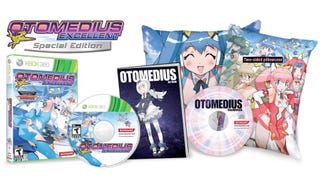 Konami is releasing a special edition version of Gradius-meets-boobs shoot 'em up Otomedius Excellent. It features a bonus rarity for North American retail releases, a two-side pillowcase with busty cartoon girls printed on it, girls that won't protest being drooled upon by you.
Konami combines Gradius-style, side-scrolling shoot 'em up gameplay with anime fetishes in Otomedius Excellent, coming to the Xbox 360 in North America on July 19. Not content to simply release a video game, Konami will also release a pillowcase.
The side-scrolling shmup that's part Gradius, part anime fetish fulfillment, Otomedius Excellent, is coming to the Xbox 360 later this year. Konami reassured fans of Gradius gameplay today that the brightly colored arcade shooter that features girls-as-spaceships is still on the cards with a handful of new screen…
Konami's cute-'em-up Otomedius (think Gradius meets boobs) was supposed to be this year in The Land of the Rising Sun. Supposed to be, because it won't.
Konami offered a single level's worth of its next great titillating side-scrolling shoot 'em up, Otomedius Excellent, at this year's Tokyo Game Show. Being a fan of Gradius-style gameplay and cleavage, we had to go hands on.