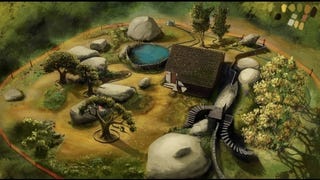 Last summer, developer Number None of Braid fame announced its next game, The Witness. It was described as "philosophical and quiet" and feature "a heavy emphasis on the way things look." Well, this is what things look like.
Number None, the developer behind swell time-manipulating platformer Braid, is getting into the motion control business, actively seeking a developer to do "very interesting work with full-body motion tracking," according to a new job listing.
Independent developer Number None's follow up to Braid, the time-shifting puzzle adventure game, will be The Witness, an exploration-puzzle game on an uninhabited island. Hold onto that knowledge, for it will be a long wait before you get The Witness.
The official Braid news blog offers some helpful hints about developer Number None's follow-up to the time-bending puzzle-platformer. Just don't expect that particular game any time soon.
The recently released PC version of Number None's time-shifting platformer Braid comes with an unexpected surprise: a built-in level and graphics editor. Developer Jonathan Blow says documentation and a developers kit is due shortly.
The PC port of Number None's excellent Braid, our choice for 2008's Indie Game of the Year, is now available. No more bulky Xbox 360 required!