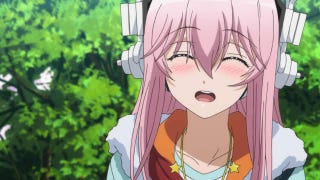 This week, Soni Ani Super Sonico The Animation began broadcasting in Japan. The series features Super Sonico, the mascot character for Tokyo-based game developer Nitroplus. And one short, subtle sequence is raising eyebrows among some online in neighboring South Korea.
Remember that Queen's Blade statue? The jumbo one with silly proportions that an 88 year-old gentleman was thrilled to hold? Well, there's another huge statue slated for release. It also has silly proportions.
Hug pillows, or "dakimakura" as they're called in Japanese, are otaku bedroom staples. But what if you didn't hug the pillow, but the pillow hugged you?
Anime character Kyubey is an extraterrestrial being in the popular Puella Magi Madoka Magica that when killed, reappears and eats the dead remains. If you think that's impressive, check out this Kyubey sculpture.
The Lancia Stratos was arguably the most beautiful rally car ever. In its rally heyday, it was covered with Alitalia and Castrol stickers. Its heyday is over.