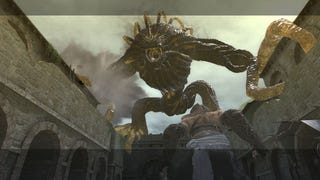 You may already be aware of the foul-mouthed nature of Nier's skimpily dressed sidekick Kaine, but this new "trailer" for the Cavia-developed disaster-in-the-making should make it clear. Pull your head out of your goddamn ass and listen for yourself.
Heroine Kaine in the upcoming Cavia-developed, Square Enix-published RPG NieR is a male-female character that gives players the best of both worlds. This latest screenshot is revealing a little too much, some claim.
Nier Gestalt's protagonist may be the perfect hero for his game. He looks tired and a bit confused.
Looks like Square Enix may be publishing another Xbox 360 "exclusive", with the announcement today that the previously multi-format Nier (now known as Nier Gestalt) will now only be released on Microsoft's console.
Nier, the action adventure role-playing game from Square Enix and developer Cavia, is coming to the Xbox 360 and PlayStation 3 next year. That game may already have a spin-off title in the works, according to the newest Famitsu Weekly.