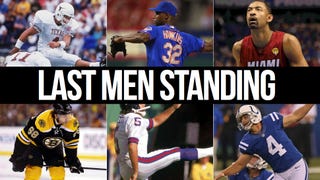 Hyping the cover vote for NHL 14, the league reached back to that old 16-bit crowd-pleaser, NHL '94, to make this adorable video. It's appropriate because one of the finalists is the New Jersey Devils' Martin Brodeur, the only active goalie whose NHL career is older than the video game.
Today, the four-time Stanley Cup champion and seven-time Norris Trophy winner Nicklas Lidstrom retired. All of Lidstrom's 1,564 games were played for a single team, the Detroit Red Wings, and all but one of his 20 seasons were spent on EA Sports' NHL series, whose NHL '94 is one of the greatest console sports video…
Here's a re-creation of the classic scene from Swingers, in which digital Jeremy Roenick makes digital Wayne Gretzky's head bleed, this time starring Real Jeremy Roenick. Playing as Gretzky in NHL '94. In 2011. Now I think my head's gonna bleed.