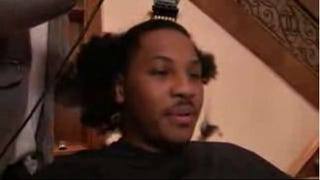 Denver Nuggets all-star and totally not a pot-head, Carmelo Anthony stars in this video about a bet gone awry. We've all been there man, betting shit we really don't want to lose in the heat of the moment. In this case things end with a razor, but on the bright side it wasn't about to cut off one of his fingers.

Since we gave NBA 2K9 some video coverage, we felt it was about time we gave NBA Live 09 a shot. In this video Gameplay Producer Jeff Antwi shows us how the new Signature Play Calling mechanics will work in the game. Actually, this is a pretty nifty addition to the franchise. We will see when the game comes out in…
This latest NBA Live 09 video from Electronic Arts shows off "athlete sizzle". This year's global cover athletes are Tony Parker, Pau Gasol (Spain), Andrea Bargnani (Italy) and Luol Deng (England).
While the official announcement isn't due until tomorrow, the nice folks at
GameCinemaHD passed along this trailer, revealing the the cover athlete for EA's NBA Live 09 is none other than San Antonio Spurs starting point guard Tony Parker. Hailing from the mean streets of...France...Parker's accolades are many, most…