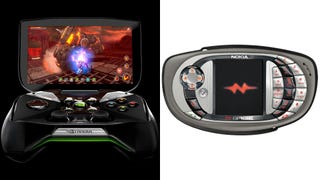 Act fast, N-Gage users. You only have until September 2010 to snap up games for the platform, as Nokia Oyj is putting the oft-ridiculed mobile platform turned mobile games service down for good.
Ah, N-Gage. Such a...tarnished brand. You'd think after two failed N-Gage handsets and a "who cares?" launch of an N-Gage gaming portal, Nokia would just give up. But they're not.
Sturgeon's Law states that "Ninety percent of everything is crap". I don't think I am being too controversial by suggesting that if Theodore Sturgeon had ever encountered mobile phone games he would have revised upwards. There are decent games out there, but there is a lot of dross - derivative, badly designed and…
THQ today announces that Star Wars: The Force Unleashed is now available on mobile handsets the world over. This includes the iPhone, where it has been lurking for quite awhile, Nokia's N-Gage gaming platform, and more than 850 different cellular handsets. Should you pick it up? Well Star Wars plus iPhone equals…
The ZeeMote JS1 is a nunchuk-like Bluetooth analog controller that we first covered back in October last year.
I'm not really sure how they do things in the US, but down here, standard mobile phone contracts last for two years. Once that time's up, 99.8% of people go and get a new phone. Simple plan, everybody wins. OH. Except for anyone with a Nokia phone who actually buys games over their new N-Gage platform. See, the games…
In case you missed it, the "new" N-Gage service is out. The one that makes the games available over a variety of Nokia handsets, instead of a single, dedicated unit. If you didn't know that, it's OK, it wasn't that interesting. This might be. Konami have signed onto the service, and will be releasing a ton of their…