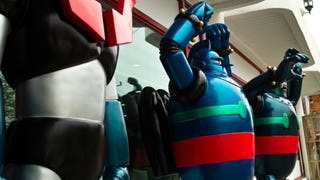 Tetsujin 28-go is a Japanese manga and anime about a boy who controls a giant robot. You might know it as Gigantor. It was also released in South Korea, where the gentleman who owns this restaurant fell in love with the cartoon. Bless him.
Just. Look. At. It. If you love Japanese robots, this deluxe super alloy Mazinger Z is definitely worth your attention. And maybe even your cashola.
Japan and South Korea are at odds over the Liancourt Rocks. In Japanese, they are called "Takeshima", while in Korean they are known as "Dokdo". Tensions between the two countries have now reached the point where giant robots are involved.