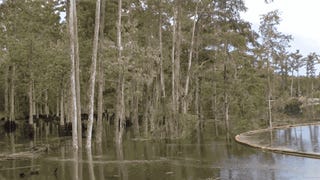 In the Southern Louisiana town of Bayou Corne, a monster is growing. For over a year now, a colossal sinkhole – which, when last measured, spanned a grotesque 24 acres – has been wreaking havoc on not only local residents (who have been forced to evacuate), but the environment under which it lurks, as this recently…
Crime is a constant feature of video games writing. Somewhere, someone is doing something illicit with them—sometimes comically stupid, sometimes tragic. Games and consoles are currency, objects of dispute, sometimes even weapons themselves. Kotaku's Police Blotter is here to round up the latest in games crime.
Electronic Arts is taking a serious look at the land of grits and fatback for a development center that could employ up to 300 people. Atlanta and Savannah, Ga., are in the running, along with Louisiana.
The state that once passed the Thompson Game Law became a great deal more developer friendly today, as Louisiana Governor Bobby Jindal signs extensive tax credits for game development into law.