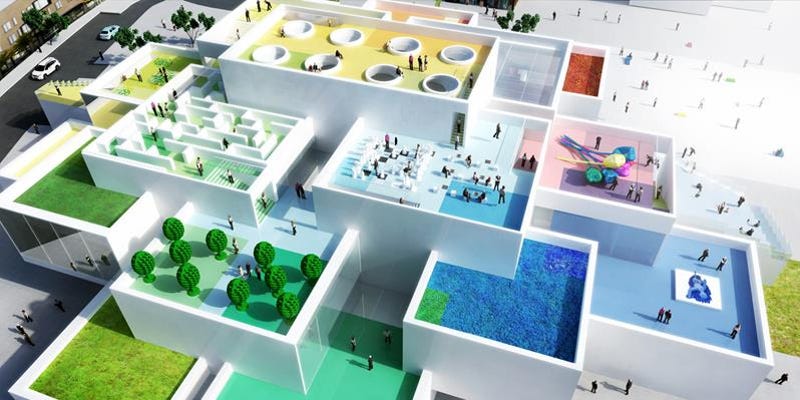 Lego maniacs have another pilgrimage destination to add to their list: The brand's new "experience center" broke ground in Billund, Denmark yesterday. As you'd expect, the building itself looks like it's constructed from a pile of Lego bricks. And thanks to a new Lego Architecture kit, you can start building your own…
This is an image from Counter-Strike: Global Offensive. Something looks a little different than what you'd normally expect to see in the latest installment in Valve's online game about counter-terrorists shooting at counter-terrorists, though. No, I'm not talking about the heads-up display.
Lego bricks are generally awesome, and by all accounts The Lego Movie, opening this weekend, is as well. So we thought we'd make sure the folks at Lego didn't get too full of themselves by reminding the world of the worst toys, figures and building sets they've unleashed upon the world. Warning: Construction ahead.
Sure, you could buy official Lego and official nerdy trading cards for franchises like Batman or Star Wars. The toys would probably be well-made and exactly what you'd expect them to be. It would also be booooring.
We've featured LEGO recreations of Nintendo hardware on Kotaku before, but I've never seen anything quite this authentic.
YouTuber Kooberz has a ridiculous collection of Legos, and he uses it to keep us entertained. This time, he's upgraded his Lego Wii to a Lego Wii U, complete with GamePad—which he actually built as a shell for his iPad! How cool is that?
Swear, I don't have a sentry gun fetish. Although it would be cool to meet a girl who did (I don't judge). Last week we churned up a video of a guy who developed a paintball sentry, and now reader Mohammed I. passes along a less functional, but no less impressive version: A Lego Sentry. Props to the builder, and…
And it's quite possible that this is viral marketing for the upcoming title (out in June), if not the movie (this week). They roll this sucker in San Francisco, and LucasArts is around the block in the Presidio. Five million Legos is not something you buy or assemble that quick — if it is a solid 5 mil Legos. I don't…