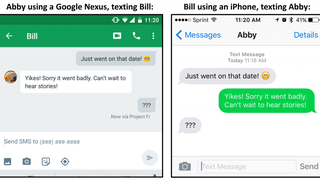 By now you probably know that the emoji you send on an iPhone might not be the emoji that is received on a Nexus. Since emoji are designed differently across platforms, sometimes your text messages might get lost in translation. But how differently might your well-intentioned emoji be displayed? The reality might…
In today's episode of Speak Up on Kotaku, commenter Korio8 wonders if anyone else prefers subtitles in their video games, even if they can hear every spoken word perfectly.
Like waves crashing against a cliff face, video games are slowly eating away at the foundations of the English language. But is that such a bad thing? Let's ask Andrew over on LittleBoBeep.
L.B. Jeffries has a nice essay up on the idea of 'games as languages' — a combination of coercing players to take certain actions and encouraging certain responses, creating a dialogue of sorts. As Jeffries says, "It's not exactly talking to another person…but it's not just rolling dice or pressing shoot either." As…
The issue of created languages is hardy new (cf Esperanto), but I've not seen a lengthy discussion of created languages in games — the challenges and pitfalls of designing a working, intuitive, and integrated linguistic system that's really a part of a game is an interesting issue. James Portnow spoke with Richard…
In an effort to make learning Chinese less painful (and ostensibly to capitalize on the 'MMO as language learning tool' trend that's been talked about a bit in the past few months), Michigan State University's Zhao Yong (professor of education technology and educational psychology) has designed Zon!, where players…