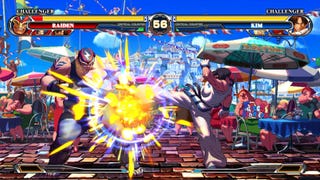 Japan's big arcade gaming expo, AOU, went down last Friday & Saturday. Lots of cool stuff was shown off, but few games - if any - look as damn good as King of Fighters XII.
.html?type=mov
Heed the warning. Don't stand and watch. If you're standing, it's further for your jaw to fall before it hits the ground. More chance of seriously hurting yourself.
You'd have thought this news was to be simply expected, not highlighted, but in these days of not-getting-SFIV-cabinets, you can't take anything for granted: Ignition Entertainment have today announced that they'll be publishing console versions of SNK's King of Fighters XII in the US and Europe. And that's about all…
We close out our TGS booth tours with SNK's. Thanks for stickin' around. It was both larger and more impressive than last year's mild effort, thanks in most part to the presence of an row of eight playable King of Fighters XII arcade cabinets. Oh, and two 60" LCD's showcasing that action, helping make it easily the…
And this one's not some shaky cam one, either. It's a proper one. A long, proper one, that shows off better than any before the hundreds of frames of animation that have been poured into each character.
You know one of the key differences between product and art? It's in the craftsmanship. Lots of people can churn out a 3D model of an alien, few can hand-draw and then animate lush, vibrant, 2D sprites. So those that can, we treasure. And we treasure SNK! Speaking yesterday at the Tokyo Amusement Show, King Of…
How does one modernize an 8- or 16-bit classic? If your Capcom or Konami, you may decide that low-fi is the way to go, with Mega Man 9 and Gradius Rebirth going for that old-school look. On the other hand, you can go the Bionic Commando route, putting a high-definition spit-shine on your strictly retro gameplay.…