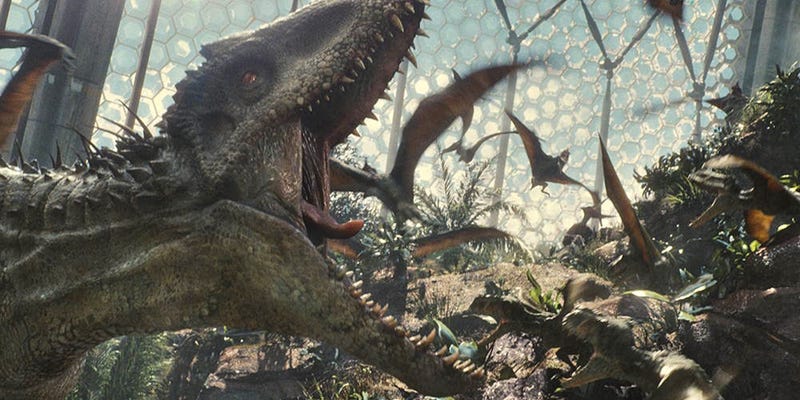 Jurassic World is now on track to beat the box office records of both Avengers films, and it has a shot at beating Avatar. This is terrible, awful news for anybody who loves movies. Not because Jurassic World is a horrible movie—it's actually pretty fun. But because this means a lot more pandering sequels.
Jupiter Ascending isn't just a mediocre film. It's also self-indulgent, and in love with its own excesses. It's like the sick love-child of Zardoz and Fifth Element. But what's really odd about Jupiter is that it wants to criticize opulence and selfishness, and yet it's a movie that thinks "more" is always "better."
Co-directors Andy and Lana Wachowski only had six minutes every day to shoot a single giant chase scene for their space opera Jupiter Ascending. Why could they only film the chase at one time of day? They explain in our exclusive interview. Plus they tell io9 why they're so obsessed with telling stories about "The…
It never fails lately. We actually get a movie that's a new story, instead of a rehash or continuation of a venerable tale. And people immediately start piling on, pointing out all the stuff in it that's been done before. But just because something contains story elements we've seen before doesn't mean it can't be new.
Are you ready for one wild summer? This year brings legendary superheroes, famous monsters, and fantasy icons. There are two Michael Bay films, but also the ultra-weird Guardians of the Galaxy. Plus the post-apocalyptic Snowpiercer. Here are 33 science fiction and fantasy movies you need to know about this summer.
Sometimes it seems like every movie is either a sequel or a reboot. They remade Robocop and Godzilla. They're releasing sequels to the reboots of Spider-Man and Planet of the Apes. But there are still tons of original films in the pipeline. Here are over 50 forthcoming movies that aren't sequels, remakes or prequels.