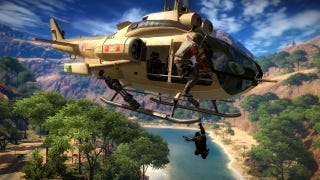 Last year, it was Black Mesa. Which mod did the community choose as their favorite this year? Let's find out.
After over a year of testing, on the seventh of December, JC2-MP, the large-scale multiplayer mod for Square Enix's shooty-hijacky sandbox game, will begin its final beta test.
Following last week's test (footage of the test above), Philpax, one of the developers of the popular multiplayer mod for Avalance Studios' action sandbox, Just Cause 2, submitted a lengthy post to the mod's forums discussing the project's past, present, and future.