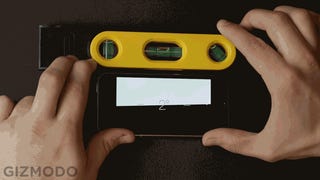 Since the iPhone 5S landed in the hands of new owners a few weeks ago, there have been reports that on-board sensors like the gyroscope, compass, and accelerometer haven't been working properly on some devices. We've confirmed the new iPhone's failings on our own. It's not just off. It's embarrassing.
The trajectory of the iPhone is, in most ways, the trajectory of Apple over the past decade. Insane ambition, untouchable dominance, the inevitable slowing of momentum. And now, reinvention, sort of. Mostly from iOS 7, partly from the iPhone 5S itself. But underneath it all, it's still just an iPhone. And that's still…
It's not just human nipples that can enjoy the safety and security of the new iPhone's "fingerprint" scanners. Cats can now also sleep easy knowing their contacts and messages are accessible only to those with matching pawprints.
There's a new iPhone. Well, to be completely accurate there are two new iPhones. But the new iPhone 5S is Apple's flagship phone and it's the best iPhone you can buy. It looks exactly like how the iPhone 5 looked last year but with improved internals and guts that will make everything run even faster. Twice as fast,…
According to a Chinese newspaper, Apple will apparently start trial production next month for the iPhone 5S.