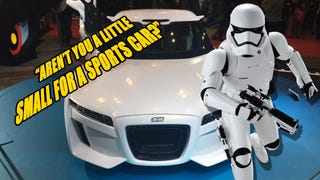 Mugen, Honda's little-brother modification company for Honda products started by a Honda family member, has a long history of "classic" JDM design modifications. For Tokyo Auto Salon 2017, Mugen threw all of that right out the window for its S660, which looks like it belongs cruising the Death Star or Imperial…
Heading into CES 2017, we had a good idea as to some of the big trends we'd see. And we weren't totally wrong—Amazon's Alexa assistant was baked into gadgets everywhere, even in cars! But looking back at all of our coverage, there was plenty we had no idea about. This is the best stuff we saw at CES 2o17.

While it's true that I'm not much of a video gamer, I have clearly found the classic Super Famicom (Super NES) game for me: Kat's Run Zen-Nippon K Car Senshuken. Not only is it named after me, and involves kei cars I want and/or have owned, but it even has a joke from my favorite anime in the opening segment!
Honda has taken their CR-Z sporty-ish(?)/hybrid coupé and given it a mild facelift, with the hopes of taking it from selling like hotcakes that have been urinated on by a dog to selling like hotcakes that have hardly any urine on them at all. And, from what we can tell, the design inspiration came from a Nintendo game.
Comics are ubiquitous in Japan. Known as "manga" (漫画, マンガ), they are used not just for entertainment, but also for education and promotional materials. Many big Japanese corporations have manga for marketing purposes, and Nissan's current CEO Carlo Ghosn even has his own! But if flipping pages is too much work for…