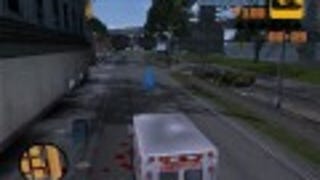 After a delay, 2001 PS2 classic Grand Theft Auto III is finally available for download on the PS3. File-size: 4.35GB!
It's long been a subject of fan speculation as to how much Rockstar Games changed Grand Theft Auto III in the aftermath of the 9/11 attacks. In the decade-plus since GTA III came out, rumors have abounded: cut sequences where planes hit buildings, a supposedly removed pair of Twin Towers-style skyscrapers and the…
We've shown you how today's 10th anniversary edition of Grand Theft Auto III runs on an iPad. But we haven't been able to listen to all that much it. So we turned to Rockstar Games today and asked them if the iconic soundtrack of the original 2001 GTA III was in the new game.
Hot on the heels of the announcement earlier today, Rockstar Games made the 10th anniversary edition of Grand Theft Auto IIIavailable for attendees to play. After about 10 minutes of hands-on time with the game running on an iPad 2, there's no mistaking that GTA III on iOS is a loving port of the game that catapulted…