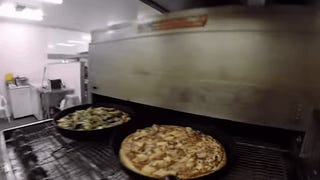 There is no nobler profession than preparing circular feasts at a chain pizza restaurant. The tools of that honorable trade are liken to the greatest legendary weapons — Mjölnir, Excalibur, pizza pan tongs. One brave kitchen warrior mounted a GoPro to his weapon of choice and recorded an entire day of pie liberation.
Ever wonder what it would look like to fly faster than a speeding bullet? Well, the folks at CorridorDigital got their hands on a UAV with a camera and decided to use it to envision what it might look like if Superman spent a day wearing a camera on his head.
I hope you're not afraid of heights—then you'll want to steer clear of this video of two bold men climbing the Shanghai Tower.
The GoPro line of action cameras generate some amazing footage, but who has time to navigate a search engine to find them? That incredibly inconvenient means of watching first-person bird videos will be a thing of the past later this year, when the GoPro Channel app launches for the Xbox 360 and Xbox One. It's a video…