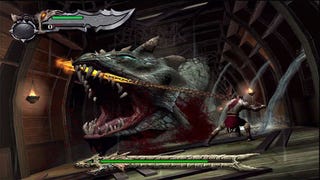 If you wanted to own the God of War Collection for the PlayStation 3, but couldn't in good conscience bring that box art into your home, Sony has good news. That pair of PlayStation 2 ports is going digital.
PlayStation 2 title God of War and God of War II were released on a single Blu-ray disc for the PS3 and feature smoother graphics and a faster frame rate. Is Sony planning to do the same for more titles?
Confirming last night's Walmart ad, Sony has announced ten new titles joining the PlayStation 3's budget-priced Greatest Hits line, with inFAMOUS, God of War Collection, Killzone 2 and Resident Evil 5 and more now available for $29.99.
Americans love a bit of blood, a bit of grunty men tearing things in twain. So Americans will be getting the God of War Collection in 2009. Europe, though? Home to Greek mythology? Yeah, Europe has to wait.
Here's the cover to the remastered editions of God of War, due later this year on PS3. Are you aware that these are two God of War games? Really, Sony, four God of War logos might be a bit much.
Despite Sony's own admission that the God of War Collection remakes are just "ports", that's not to say both games will be identical to their PS2 forebears when they hit the PS3.