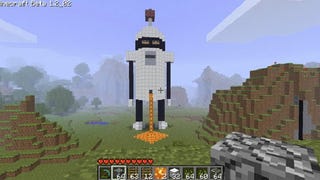 Penny Arcade's infamous sex-bot is something of a religious totem in this Minecraft world. Seen via Penny Arcade's Gabe.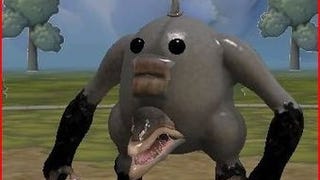 Sure, Fruitfucker should be right up there for words that probably shouldn't be allowed in the Sporepedia and I had, at one point, named my fleshy shark-mouthed ode to Penny Arcade FruitLover. But let's face it, what that devious little shiny robot does to fruit does not involve even a shred of love. Last week,…
Hands, down the best bit of cosplay at the Penny Arcade Expo this year was the more than life-sized Fruit Fucker. A metal beastie with a turning key and the ability, for at least a bit, to spray juice from it's... um... juicer. Forgive the bad audio and video in this clip, I was by myself and using a handheld camera.…
Brian's repeated use of "Fruit Fucker" in headlines - Kotaku Originals, no less! - this week will be a watershed moment in my development here. Sort of like the time my father made the mistake of laying down guidelines for "acceptable" swearing when I was 11. Yeah. No putting the genie back in the toothpaste tube once…
You guys seemed to like my horrific take on an organic Fruit Fucker so much I thought you might want to see what the little beast looks like in motion. Sadly, there's no option to drop an orange... or small child into the circle with your critter. What do you think? Should this be my entry into the Celebrity Spore-Off
I know Spore's Creature Creator has been making the rounds for months now, but yesterday was my first chance to get my hands on the thing and go to town on some critters of my own creation for the upcoming competition.