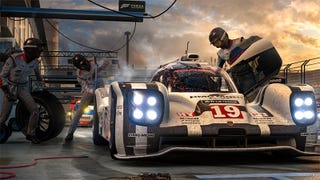 Following negative player feedback, Turn 10 Studios plans to make Forza Motorsport 7's VIP program a great deal again. An update is in the works that will replace five-time use double credit "mod cards" with the always-on double race rewards of earlier games.
I just couldn't do it. I couldn't catch Forza Motorsport 7's simulated driver. He threw his Porsche 918 Spyder around the corners so well, his lines so perfect, that I just could not close the gap between us. But then, it started to rain.

As Forza Motorsport 7's Oct. 3 launch date draws nearer and nearer, I'm running out of more and more reasons not to tell my friends and family goodbye for a week (or weeks), turn my apartment into a racing simulation cave and exclusively survive on delivery meals. Now there's an awesome new trailer and a demo to deal…
Not at an auto show, not a special event, not at a concours: E3 is where Porsche dropped the 2018 911 GT2 RS, an absurdly ferocious-looking machine touted as the most powerful 911 ever. Why E3? Because it's the cover car for the new Forza Motorsport 7.
The first game designed with Microsoft's new Xbox One X in mind was shown off at the company's E3 presser today, and it's Forza Motorsport 7. Here's the debut trailer.