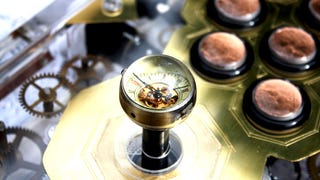 Sam Kurd from B15SDM Designs didn't add a little steam punk to his custom fight stick, he added a lot.
Mad Catz, once known for concentrating more on quantity than quality, is turning over a new leaf, the company's president told Kotaku.
The Mad Catz Tatsunoko Vs. Capcom FightStick mock-up from the San Diego Comic Con just got real, with the Wii arcade controller now available for purchase at the GameShark Store.
Earlier this month we announced a Tekken cosplay/haiku contest, and readers did not disappoint with their submissions. We have winners to announce! The lucky five need to send me their contact info. Details below.
The Marvel VS Capcom® 2 Arcade Fightstick: Tournament Edition will make you forget all about those silly limited-edition PAX and Comic-Con Street Fighter IV sticks you missed out on.