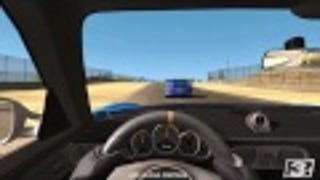 I'm not sure how she handles, but Real Racing 3, sure looked fast today at Electronic Arts' summer showcase. The game is the sequel in the cutting edge racer from Fire Monkey, the joint operation of Firemint (creators of Real Racing, as well as iOS hit Flight Control) and EA's in-house studio Iron Monkey.
This week marks the tenth anniversary of a little game called The Sims. We'll have a couple of guest on our podcast tomorrow to chat about the franchise.
Some gameplay in this latest trailer for Dragon Age: Origins. Seriously, you didn't expect that statesmanlike speech to quell the bloodthirsty citizens of Denerim, did you? Not when everyone carries huge swords and wears huger shouldermopads during an ordinary day.
The ongoing controversy over language filtering on Xbox Live has another curious manifestation - rosters that EA Sports' TeamBuilder auto-names get filtered when they're imported into the Xbox Live version of NCAA 10.