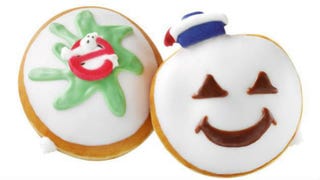 I love Ghostbusters. I also love donuts. So why am I intimidated by the prospect of Krispy Kreme's newly announced "exclusive offer of two new marshmallow Kreme™-filled Ghostbuster treats?" Well, can you imagine biting into that face?
From the country that gave the world ramen burgers, we have this: "ramen donuts" (ラーメンドーナツ). They're ramen noodles but inside donuts. Clever, no?
Boy, do I love donuts! Who doesn't? Weirdos, that's who. And some of the best donuts are from Mister Donut. But did you know that the donut chain's Thai branch has donuts that look like delicious sushi?