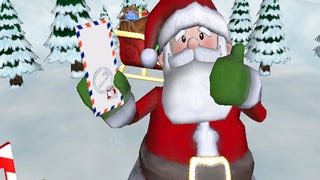 Destineer brings the holiday cheer with We Wish You a Merry Christmas, a collection of mini-games and activities that will surely help families get into the holiday buying spirit.
For every four people who have reached the summit of K2, one has died trying. Luckily, climbing will be the farthest thing from your mind in Stoked DC, which turns the legendary Savage Mountain into a playground for some serious snowboarding business. We don't have much more info on the title at this point, other than…
Last week Destineer quietly released Battle Rage: Mech Conflict, a $19.99 robot battler for the Nintendo Wii, and for some odd reason I picked up a copy. Let's play!
Say what you will about pop punk music...how it all sounds the same and the bands generally look the same and probably smell the same...it's still damn infectious stuff. Destineer chose this particular Quietdrive song to celebrate the deliver of their Xbox 360 snowboarding game Stoked to retail store shelves. Cute.…
Iron Chef America is unapologetically similar to Cooking Mama and Destineer is totally OK with that. "Cooking Mama is like cooking with your friends and family at home," said Lisa Mason, the game's lead designer. "We wanted to do things that home cooks don't do: fillet whole fish, quarter chicken. "The (TV) show is…
It looks like Shaun White may have a bit of competition. While Destineer's upcoming snowboarder Stoked wasn't built using the Assassin's Creed engine (and it doesn't sport a Wii version with Balance Board support), it does have some things going for it. First off, it was created with the help of snowboarding movie…