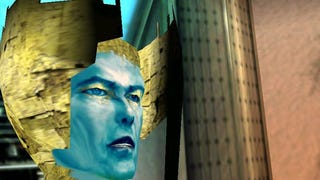 In honor of David Bowie's passing, Square Enix is giving away Steam keys for Omikron: The Nomad Soul, which he starred in and wrote music for. The offer is "while supplies last" and runs through January 22. US players should use this link, European players should use this link. Both require the code "omikron."
David Bowie, who just died of cancer aged 69, had an incalculable impact on pop culture throughout his shape-shifting career. But perhaps more than any other musician, he also had a tremendous impact on science fiction. He changed the way we thought about the alien, the uncanny, and the familiar.
Okay, that's not fair. Duncan Jones is more than just David Bowie's son. He's also the son of fashion model Angela Bowie.
Number two on our list of musical artists least likely to become Lego figures becomes a Lego figure, as David Bowie joins Iggy Pop as a playable rocker in Lego Rock Band.