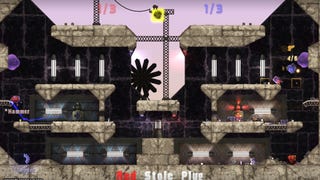 Cobalt, the action game of "running, jumping, rolling, shooting, throwing, dancing, hacking, rolling, flying, sliding, climbing, looting, deflecting, racing, piñata-ing, passing, scoring… and even more rolling!" is now playable as a discounted Alpha version, developers Mojang and Oxeye tell Kotaku.
For those on the fence about attending MineCon, the inaugural Minecraft convention to be held Nov. 18 and 19 in Las Vegas, Mojang is hoping an early look at its next two games will sweeten the deal.
I booked an appointment with the game studio Mojang at the Penny Arcade Expo so that I could chat with the company's star, Notch, about the next evolution of Minecraft.