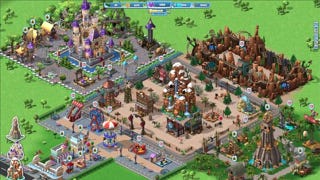 It's become a tradition in Hidden Chronicles that players are introduced to a new set of themed quests when Zynga releases most new games, and CoasterVille is no exception. While you may have plenty of quests already on your plate in Hidden Chronicles, if you scroll through your list long enough, you'll eventually…
CoasterVille's Christmas event has finally become something to get excited about, as seven new quests have been released in in our parks, promising to bring Winter and Holiday cheer to your guests during this holiday season. As always, we're here with a guide to getting started.
Zynga's CoasterVille focuses on more than just roller coasters, allowing players to build small rides, businesses and attractions. But one of the most interesting features within the game is definitely the ability to build roller coasters. From the game's tutorial, you're introduced to this feature, which sees you…
Zynga's CoasterVille has finally launched on Facebook, an outlet for players to build the theme park of their dreams, complete with customizable roller coasters, plenty of attractions, stalls and much more. To help you get started, we're here with a complete look at the game's first 10 quests, along with some tips.
While we wait for the doors to Zynga's CoasterVille to open, here's the launch trailer, complete with horking.
From the Zynga studio that brought you the company's most unique game to date, Empires & Allies, comes a theme park management game that offers players unparalleled freedom to create their happiest place on Earth.