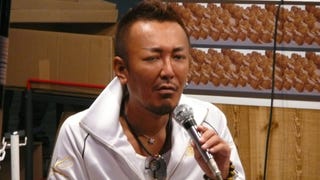 Today's Shigeru Miyamoto news shows that not even the biggest names in development are around forever. One man, though, plans on sticking around forever. One very brown man.
Toshihiro Nagoshi is known for two things: Being very brown and making video games. He looks even browner on television.
While the West still waits for Yakuza 3, Sega's famous brawler series is already up to a fourth instalment in Japan. Here's the debut trailer for the game.
For the past few months, various comments from Sega have people hoping for a Western release of Yakuza 3 bummed. Today, however, things are sounding a little more optimistic.
Good times! Sega's announced today a release date for Yakuza 2 in the US. Yes, we know, it came out in Japan in 2006, but let's try and look on the bright side for once, eh? It'll be out on September 9 (Europe, you get it on September 28), and instead of trying to get the likes of Michael Madsen back into the…
A third, proper Yakuza game? For the PS3? Exciting stuff. So let's go over a few of the game's finer details. While we already know the game will be an immediate sequel to the second, featuring the same characters and the same storyline, what we didn't know was that the game's going to be taking a pleasant break from…