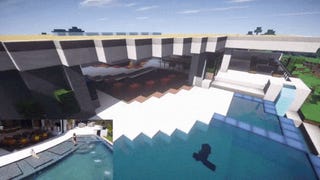 Minecraft creator and ex-Mojang head Markus "Notch" Persson has a new house. He spent upwards of $70 million on it, and there is a candy room. Of course there is a candy room. You will probably never have anything that nice, nor will I. But hey, we can still stroll through it in—yep—Minecraft.
Attempts to have the $100 million lawsuit brought by game developer Gate Five against singer Beyonce for abandoning a project to create a music game featuring her work have been thwarted by judge Charles Ramos of the Manhattan Supreme Court on Tuesday. The singer's pull out cost reportedly resulted in the loss of 70…
As you know, pop diva Beyoncé has teamed up with Nintendo to help promote a DS game. This is that game's TV commercial, which for anyone around the age of 30 has a surprising conclusion.
Nintendo's latest spokesceleb? Beyonce! She's hopefully going to sell millions of copies of the extremely bootylicious Rhythm Heaven when it comes stateside by kicking back with her Nintendo DSi and having fun on-screen.
Demanding famous people are nothing out of left field — it's what celebs do, they demand stuff like bowls of green M&Ms and Evian baths. Singer Beyonce is no different, apparently. She had a whole laundry list of demands that needed to be signed off on before she would agree to fly to Monaco for the World Music Awards…