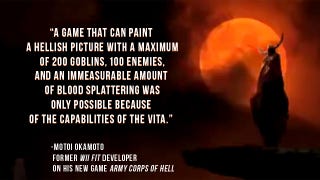 One of the most interesting parts of reaching one's thirties is seeing how impermanent, flexible, and downright unexpected someone's career path can end up being. Such is the case with Motoi Okamoto.
Square Enix's upcoming Vita game puts players in command of a dethroned King of Hell who's commanding a 100-goblin attack squad to get his crown back. This latest video from the strategy game shows that you needn't go it alone. ACoH will support up to four ad-hoc players and you can see what it looks like when…
We've previously talked about how Square Enix's first Vita game will give you an army of goblins that you control as a demon king. The Final Fantasy publisher's outed some new screens for the original strategy/action game that puts some of the special moves you'll be able to do. You'll need them to face off against…
I'm not normally a man to carry around regret, but last week, I didn't get a chance to play this game. The lines, as we've told you, were too damn long. But if ever Square Enix were going to make a game that spoke directly to my heart, it would be this.