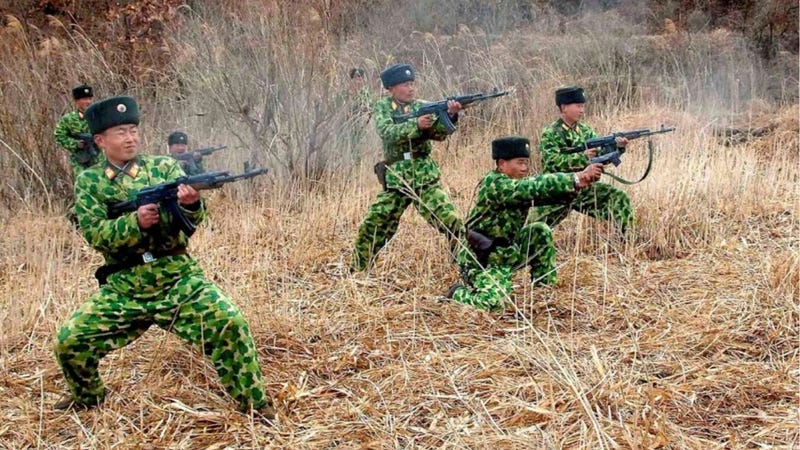 Wow, the North Korean troops in the above image sure stick out! If anything, their camouflage uniforms make it easier to spot them. Camo isn't supposed to do that. Good camo, anyway.
The above image recently appeared on 2ch, Japan's largest web forum, in a thread titled "The North Korean Army's Camouflage Uniforms Are Terrible." The photo is now being disseminated through Japanese cyberspace for giggles.
There are other examples of North Korean camo that don't exactly seem to conceal, such as the "house plant camouflage" that appeared in a propaganda clip earlier this year.
Yikes! As you can see none of the other soldiers in the background are wearing this camo, so it could be just a prop for the propaganda video.
The netting does seem popular.
Ditto for the leaves in the hats—but that's not unique to North Korea.
According to camo wiki Camopedia, the top camo is actually a "duck hunter" pattern that is similar to a Chinese pattern. Camopedia says the pattern was worn in the 1970s and 80s, but the top photo is supposedly fairly recent.
Here's the camo that some North Korean military troops used before that was based on a Soviet pattern and looked pretty cool:
These days, however, the woodlands pattern, as seen below, is more common, especially among the country's special forces.
Since the pattern resembled uniforms worn by South Korean (and U.S.) troops, its introduction a few years back actually prompted South Korea to hurry up new "digital" camo patterns over concerns that North Korean troops could use their new uniforms to sneak over the border and blend right in. Now that's camouflage.
Many North Korean troops, however, continue to wear green or brown fatigues with nets, leaves, and grass. It's old-school, sure, but it works.
Camo!
北朝鮮軍の迷彩服が酷い [2ch]
Photos: Sina, KCNA, Uriminzokkiri
To contact the author of this post, write to bashcraftATkotaku.com or find him on Twitter @Brian_Ashcraft.
Kotaku East is your slice of Asian internet culture, bringing you the latest talking points from Japan, Korea, China and beyond. Tune in every morning from 4am to 8am.