Forza 5 launched with some nasty microtransactions, made more upsetting by the fact that people already spent $60 to buy it. Players were pissed, and creator Turn 10 spent months re-tuning the otherwise solid racer. What does this mean for open-world spin-off Forza Horizon 2? No microtransactions whatsoever. At first.
I spoke with Playground Studios' (Forza Horizon 2's primary developer) Ralph Fulton about the prospect of being able to spend real money on things—cars, upgrades, and the like—otherwise earnable in-game at a recent preview event in San Francisco, and he didn't mince words: the firestorm that came down on Forza 5 provided a valuable—though indirect—learning experience for the Horizon team.
"Obviously we couldn't help but notice what happened with Forza 5," he said. "Absolutely. But at the same time, I did feel bad for the team [at Forza Motorsport creator Turn 10]. They worked incredibly hard on that game and then things erupted."
Their solution, then, is to launch at the end of this month with no in-game microtransactions—no cars buyable for real money—whatsoever. You either earn your way to the top or stall out at the starting line. Why? Playground wants to make sure the game's economy isn't broken—that is, obnoxiously slow for people who don't spend real money—like Forza 5's initially was. They also want to show fans that this game is designed to be fair and rewarding first and foremost, that it won't repeat the sins of its series cousin.
G/O Media may get a commission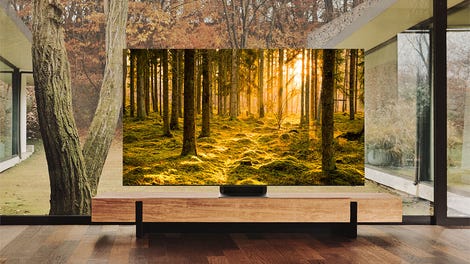 Up to 40% off
Samsung Smart TVs
"We're not trying to short-change anybody out of the experience," he said. "We want a massive amount of content available to everyone on day one."
"There's a twofold strategy to that. First, we want to make sure our economy is as we planned it. From the start, we want to make sure progression, the economy, the amount of credits you get in the game—that all of that is fair and rewarding. Our job is to make you feel good about your progression. We need to make sure that's the case once the game is out in the wild and people can play it."
---
"We're not trying to short-change anybody out of the experience. We want a massive amount of content available to everyone on day one."
---
"The second half of that is to demonstrate to everyone else—to the players—that we have a game which is balanced such that you never need to spend a penny on it. It will reward you. You will feel great. You'll feel like a rockstar for the progression you make through it."
How exactly will that work, though? What's the difference between "feeling like a rockstar" (or, you know, a famous race car driver, which might have been a more apt analogy) and feeling like you're being swindled by a used car salesman? Fulton explained it like this:
"We tried to make the game really generous. We give you two or three cars in the first hour. The wheelspin mechanic [that gives you a random reward when you level up] is really important too. Everybody loves a slot machine, and you have that sense that you'll be leveling up every 15 or 20 minutes. With that, you have this next opportunity to get more cash or even to get a car."
Horizon 2's world is allegedly three times larger than that of the first Forza Horizon, too. Fulton boasted that doing everything in it would take at least 100 hours.
Of course for now, that's just a boast—empty air, no substance. What I can say with certainty is that in my experience of the game's first hour, rewards came fast and furious. I leveled twice and got pretty good in-game money both times. I also won a championship in my muddy, thoroughly-dented-from-driving-like-a-maniac Camaro, which netted me even more glittering prizes. Also my car's mutant healing factor kicked in after I crossed the finish line, so I didn't have to pay pesky repair fees or anything like that.
As is, Forza Horizon 2's economy—at least, at this early point—inspires confidence. We're not entirely in the clear, though. Assuming players largely get on well with Forza's new, more generous side, Playground hopes to add microtransactions at a later date.
" I'm sure there'll come a time when we want to offer our players more choice," said Fulton. "But we won't do that at first. The crucial thing is to make this point [about our economy] to our fans."
An admirable goal. I'll confess, I'm not in love with the idea of putting microtransactions in a $60 game at all, but—for the time being—it's looking like The Way Of The Future. Here's hoping more creators opt to nail down the, you know, fun side of their reward systems first and then sweat the other details. If Playground keeps to its word, Forza Horizon 2 will at least provide a good model to follow.