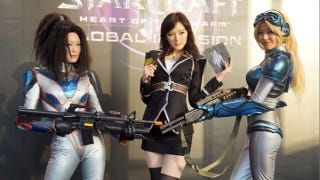 Cosplay collective Spiral Cats brought their talents to the recent StarCraft II: Heart of the Swarm launch in South Korea.
Back when Blizzard's Diablo III launched in South Korea, Spiral Cats was also on hand at the event, showing off its latest cosplay creations.
"I believe that we can project our love for the character that we cosplay through our pictures," Spiral Cats leader Tasha previously told Kotaku. "
"However, just because we love our characters and work doesn't necessarily result in pictures that everyone can appreciate. You must analyze and understand the character to be able to justify your own interpretation."
Two of the fellas holding the StarCraft II: Heart of the Swarm placards were those who lined up three days early for Heart of the Swarm. Guess it was worth it!
[군단의 심장]스파이럴캣츠, "칼날여왕 코스프레는 새로운 도전이었다" [Fomos]
군단의 심장 행사장을 찾은 미녀 삼총사... 스파이럴 캣츠 코스프레 사진 모음 [Inven]
http://news.danawa.com/netizen/News_N… [DaNaWa Thanks, Sang!]
---
Kotaku East is your slice of Asian internet culture, bringing you the latest talking points from Japan, Korea, China and beyond. Tune in every morning from 4am to 8am.