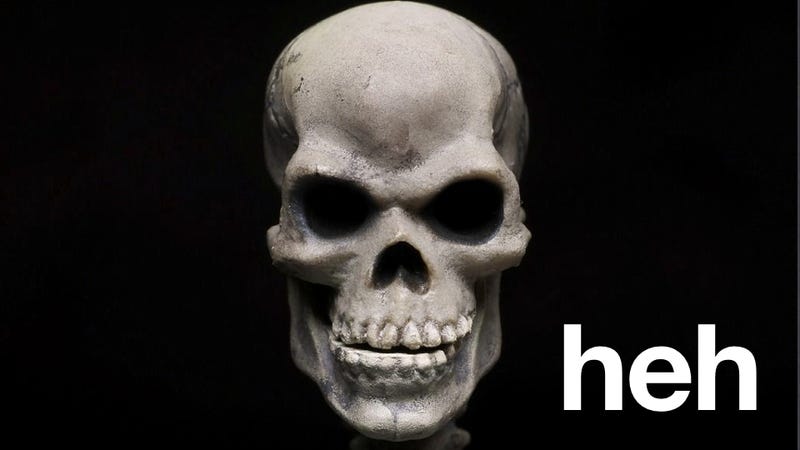 A skeleton wielding a sword is supposed to be scary. It was scary in 1963 when special effects maestro Ray Harryhausen created a whole army of them in Jason and the Argonauts. How do you kill something that's already dead?

But what happens when you take a Skeleton Warrior out of Jason and the Argonauts? And have him (or her!) laugh at crap TV, hang out with gay porn stars, or eat strawberries? You get internet hijinks, that's what.
A few years back, Japanese figure maker Kaiyodo—the folks behind the infamous Creepy Woody—released a poseable figurine based on the Skeleton Warriors in Jason in the Argonauts. And like Creepy Woody, the Skeleton Warrior has since become fodder for figure fans to amuse themselves.
What makes Creepy Woody so much fun is that there's a "gap": Woody is not creepy in Toy Story, but that pervy face opens up a world of figure fun. Likewise with the Skeleton Warrior, there's a similar gap, opening up humorous tableaus like a skeleton ordering a meal. Moreover, the Kaiyodo figure isn't just highly posable; its crooked lower jaw, which can open and shut like a suitcase, makes the figure extremely expressive.
In the above gallery, check out an array of Skeleton Warriors, including a darkly grim one that was uploaded this week.
Click the lower corner of each image to expand to full size.
(Top photo: はっちゃか)
---
Kotaku East is your slice of Asian internet culture, bringing you the latest talking points from Japan, Korea, China and beyond. Tune in every morning from 4am to 8am.
[はっちゃか]

[生き物ファイル]

[生き物ファイル]

[>生き物ファイル]