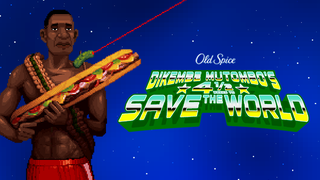 Ha, ha, hey, it's December 20. Spend what might be your last moments on Earth playing Dikembe Mutombo's 4½ Weeks to Save the World, potentially adding more time to the Mayan Calendar, and potentially winning a $1,000 prize pack — that you'll actually be able to use because you've helped save mankind.
Super simple. Play Dikembe Mutombo's 4½ Weeks to Save the World here (or below). Then, tweet your game tips using the hashtag #dikembetips by 6pm ET on December 21* (if the planet is still intact), and you'll automatically be entered to win.
If you win, you'll get:
a Wifi Body Scale with which to monitor instantaneous weight gain, as displayed by Fat Dikembe
Set of 2 cassette tape pillows, because Dikembe loves mixtapes
Le Creuset casserole dish, for Dikembe's favorite green bean casserole
U.S. Constitution puzzle, in honor of James Madison
Audio Technica K-Pop headphones with which to listen to that darned K-Pop
Set of 2 Mallard-themed Tervis Tumblers, in honor of Dikembe's ducky friend
"Cosby" sweater (as worn by Science the Bear)
Dikembe Mutombo Denver Nuggets retro jersey
Mayan Calendar coasters
Home Planetarium, in honor of Science the Bear
So play now, and get that swag by tweeting your game tips using #dikembetips!
*We've extended the deadline for the contest, which is hosted solely by Gawker Media. Standard contest rules apply. Only open to US residents. Readers may also enter by sending their score and contact information to Gawker Media, Attn: Dikembe Disco Kit Contest, 210 Elizabeth Street, Fourth Floor, New York, NY 10012. The contest begins on December 3 at 11:59 am ET and ends on December 21 at 5:59 pm ET.