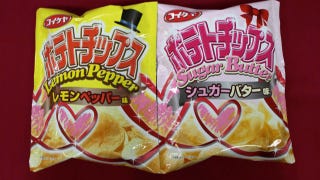 This month, Japanese snack maker Koikeya is releasing potato chips that have been designed with couples in mind. The chips are heart shaped and come in two flavors: Lemon Pepper and Sugar Butter. How romantic.

The Lemon Pepper chips have a "top hat" on them, so the presumption is that they are aimed at either men or individuals who own fancy headwear. The Sugar Butter chips are in pink packaging and have a ribbon on them, so they seem to be aimed at females—because all females have bows in their hair and like pink, right?
This is all pretty old fashioned: Lots of ladies like spicy food, and lots of dudes like sweets—and not all dudes date ladies and vice versa. But whatever!
---
According to MyNavi, the chips are launching in December, because Christmas is somewhat of a romantic holiday in Japan (thanks Wham!). New Year's, however, is a family and spiritual holiday. The chips for lovers also hope to cash in on Valentine's Day, a holiday in which women give men chocolate, and White Day, a holiday in which men give women chocolate.
Chocolate? Why not potato chips?
恋の味がするハート型チップス! カップル向けポテトチップス発売 [MyNavi]
---
Kotaku East is your slice of Asian internet culture, bringing you the latest talking points from Japan, Korea, China and beyond. Tune in every morning from 4am to 8am.