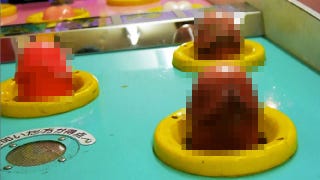 You know the classic arcade game Whac-A-Mole, right? Using a mallet, the goal is to whack moles as they pop up. In Japan, the game is called "Mogura Tataki" (もぐらたたき), which means, well, Whac-A-Mole. It's the same game.

Spotted in a local arcade in Japan, this Whac-A-Mole game, however, doesn't seem to feature moles. It features schlongs, trouser snakes, one-eyed monsters, ding-dongs, um, meat puppets. You know, dicks.
When Japanese site Rocket News told the arcade it wanted to take photos of the game, the arcade said that people already take photos of it without asking, so it's okay to snap photos as one likes. A Whac-A-Mole machine like this is very unusual in Japan.
If the photos don't do the dick whacking justice, there's also a video in the above gallery. It really must be seen to be believed.
地方のゲーセンにあった「もぐらたたき」のもぐらの形状が変なんだが [ロケットニュース]
---
Kotaku East is your slice of Asian internet culture, bringing you the latest talking points from Japan, Korea, China and beyond. Tune in every morning from 4am to 8am.