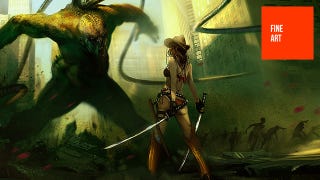 Over the years French artist Morgan Yon has worked on games such as Heavy Rain and Zombi U, and movies like Prince of Persia and GI Joe.
His work is incredible. We featured some of it a while back, back when Heavy Rain was in the news, but that was then (when we only showed a few Heavy Rain images), and this is now (and we're showing a ton of images from all kinds of stuff.)
You can see a lot more stuff over on Morgan's personal site.
To see the larger pics in all their glory (or so you can save them as wallpaper), right-click on them below and select "open in new tab".
Fine Art is a celebration of the work of video game artists, showcasing the best of both their professional and personal portfolios. If you're in the business and have some concept, environment or character art you'd like to share, drop us a line!
---