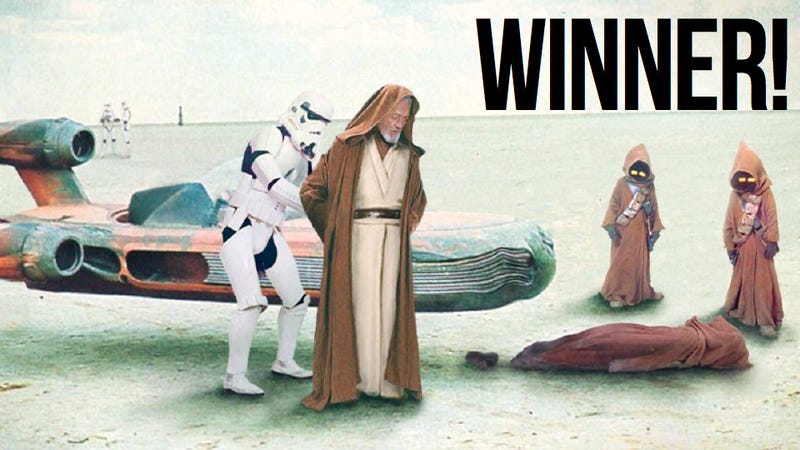 The moving-violation misdaventures of a California man actually named Obiwan Kenobi formed the inspiration for our latest Kotaku 'Shop Contest. You will never find a more wretched hive of scum and villainy than the 20 finalists inside, plus overall winner musica!
Plenty of movie poster themes here. Toolsoldier (17) had the best of all of them, especially the great trick he pulled convincing the world that Yoda is 5'3". seivewright (14) got the animated .gif thing to work, and it's all oonce-oonce-oonce from there. pan1da7 had a few entries. This one, of a crazy old wizard looking appropriately guilty, was the best. Goldfuzzy (7) offers a brilliant adaptation of a television series.
freeasabird (4) continues the movie theme; maybe a little simple for the shop, but the concept made me chortle. I don't know where weeeeee01 (18) is going, but the eyeball swap that turned Han and Leia into flounder (and goatee swap that made Luke into a sex offender registrant) made me laugh out loud.
Is that Cole Phelps standing beside Uncle Owen in Gareth Halpin's shop? (5). xX_cringer8_Xx (20) gets in for superb 'Shop skills but he, like Halpin, should understand that this stuff is even funnier without the word balloon. Look, I speak from experience, I have a tendency to overtag my jokes when I perform standup. Just let the audience react and laugh.
My overall winner had to beat out Toolsoldier and Goldfuzzy but musica is clearly the top finalist, capturing both the spirit of the contest, the nature of the news inspiring it, and displaying best-in-class photoshop abilities. Round of applause for musica, and all of our finalists. Thanks again, everyone, we'll have a new contest subject tomorrow.
bmg_123

el_hefe

element

freeasabird

Gareth Halpin

Gavinge

Goldfuzzy

halfbeast

hampstasandwich

musica

pan1da7

ParamedicFoetus

sciteach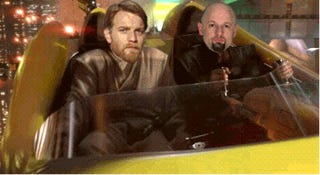 seivewright

Taliesin_Merlin

TheReno

toolsoldier

weeeeeee01

will0220

xX_cringer8_Xx