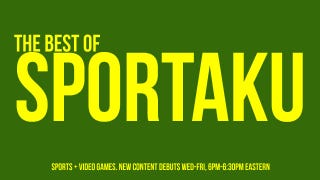 Sports are a huge segment of video gaming. Two to three titles are guaranteed to be top 10 sellers every year, and the list of most popular games being played on the Xbox 360 nearly always includes the most current versions of the major team titles. Why, then, is this genre and its devoted fans treated as an outlier?
Well, they aren't in Sportaku, this publication's look at sports video games, and the intersection of sports with video games. Along with Stick Jockey, Kotaku's weekend sports column since 2009, it forms what we consider to be the most full-service coverage of the genre available.
Sportaku is written and edited by Owen Good, the site's sports columnist, and himself a former newspaper writer whose assignments sent him to major sporting events coast-to-coast, and saw him as the daily beat reporter for the village of Cooperstown, home of the baseball hall of fame. He was the co-author, recently, of the acclaimed "The Invisible Fastball," a Sports Illustrated profile of Kelly Jack Swift, the last minor league pitcher to win 30 games in a season.
We hope you'll join us, Wednesdays, Thursdays and Fridays from 6 to 6:30 p.m. Eastern time. Sportaku stories appear in the sidebar to your right, with the latest entries appearing top to bottom. Consider this your season ticket to the world of sports video games.